Kerry M. Kerstetter, CPA (referred to as The Tax Guru by other CPAs around the country) helps capitalists, investors & small business owners win the tax game. See www.TaxGuru.org for much more detailed info. Please note that Kerry does not personally agree with every item included here; but passes them along for the benefit of the readers' understanding of the varied viewpoints on the issues being discussed.


Useful WebSites:
Tax Guru-Ker$tetter Letter
Thursday, August 22, 2002
Diversion Trick
Just as magicians need to divert the audience's attention from the real action, our rulers are ever so glad to make sure everyone is paying close attention to the funny accounting tricks being played by some large corporations, while they continue doing things that are much more corrupt and that affect many more people than any corporation does.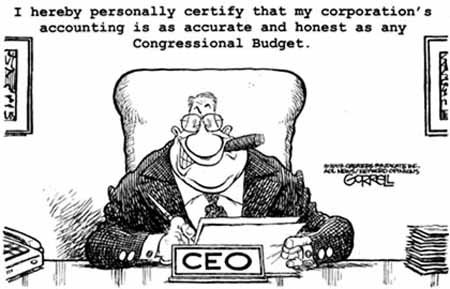 - posted by Kerry M. Kerstetter, MBA~CPA~ATP~ATA @ 8/22/2002 10:50:00 AM Send this post: