Tax Guru-Ker$tetter Letter
Thursday, September 11, 2008
Revised Extension Form

IRS has posted a new draft of the revised Form 7004 for business tax returns.

The biggest change is the inclusion of both a five month and a six month extension to reflect the new shorter time that will be allowed for some 2008 tax returns, including partnerships (1065) and trusts (1041).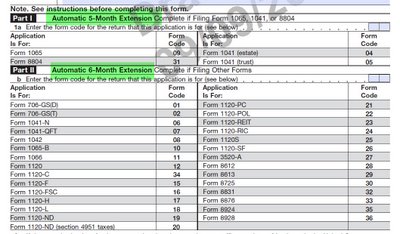 (Click on image for full size)

Labels: extensions
Tuesday, July 01, 2008
Filing Extensions Changing for Some Business Taxpayers Later this Year – Supposedly to give a longer time between the extended due dates for some types of K-1 pass-through entities and the related 1040s, the automatic extensions for 1065s and 1041s will only be for five months for those entities with a tax year ending after 9/30/08. For calendar year returns, this moves the extended due dates up to September 15, giving a full month before the October 15 extended due dates for 1040s.
Since S corps have an original due date of March 15, the current six month automatic extension already puts those returns due by September 15; so no change is required for S corps.
Labels: extensions
Thursday, April 24, 2008
Labels: comix, extensions